Ever wondered how you can possibly justify all the time you made your marketing staff spend on creating a fancy yet uncalled-for social media brand universe? Well, there are all these Coca Cola and Lady Gaga success stories out there you have probably heard over and over again on every redundant online marketing conference, leaving you with nothing but the strong feeling that indeed all this might be perfectly working – except for your very product or service.
Now, here is my story on how you can use social media efforts to truly impress your customers:
Saturday, 11 am: I bought a pair of Scotch & Soda chinos. I bought this particular pair because I own another pair of Scotch & Soda chinos already and they became one of my alltime favorite pants.
Monday, 6 pm: I came home from work and disrobed in exchange for something more comfortable. When unbuttoning my chinos, I suddenly held the secondary button in my hand, hanging on one single, weak thread from the waistband.
Tuesday, 9:17 am: I befriended with Scotch & Soda on Facebook just to leave them a nice and friendly hint bitter, disappointed rant on their wall:
Dear S&S, can you tell your chinese needlewomen that the purpose of a button in most cases is to actually hold its counterpart and that therefore it is highly recommended to stitch through EVERY single one of the four holes in the buttons they attach to your Bowie chinos, alright? Ah, and that stitching might involve a somewhat solid wiring of yarn, thus only pulling through one poor thread does not quite reflect the brand's marketing statements?
A little excursion on why I did that
Well, a brand using phrases like "made with love" and "hand-crafted" boastfully suggests high quality, at least in my point of view. How well this fits with "made in china" is not up to me to analyze. Actually, there are quite enough brands out there with high quality produce from China or other east-asian countries, right or not? Thus, you can call me a narrow-minded bellyacher, notorious complainer, bean counter…. you know what? -I don't care! If someone wants my 90 € and one hour research of my well-deserved Saturday afternoon to buy their product, it'll better be worth my effort and resources.
The tricky bit is as follows: Usually, in the brick-and-mortar age, people would simply take their defective product to the dealer and claim a repair. (Even before that, mummy or granny or wifey could have simply fixed the loose button, but this is not the point here, not really an alternative for the nitpicker that I am…) In 99% of the cases, you would sit at home, think about taking the piece to the dealer and imagine the worthless discussion you will have with the salesperson – with the utmost probability because you have made myriad negative experiences with these human window dummies before. (Or you can't find the receipt anymore.) Consequently, you stay where you are, leave the defective product as it is for a week or a year, or you have your mummy/granny/wifey fix it for you. In absence of these three, you take this to a tailor yourself and end up giving a flying fart about that knickknack.
Agree with me or not: This is not how it's supposed to be!
It's not how it's supposed to be, for two reasons. Number one is, bit by bit we consumers are taking care of the vendors' responsibilities, the producers' quality management and quality assurance. We are the customers, we already took care of our part of the deal, right? We should be off the hook. No deeds except enjoying what we bought and treating it as described. (This is important, since I am not talking about extensive and/or extremely erosive use of a product and then claiming repair.) Both vendors and producers find it easy nowadays to shift a lot of their responsibilities to the consumer. Be it to save costs (of which we consumers might also benefit in the end), especially when it comes to e-commerce, or simply by submitting to today's evil world of "fierce competition" and shrugging pitifully. What companies try to sell us is self-service, even after sale, and make us shift our boundries of tolerance and lowering our expectations at the same time. Number two is something the companies should also be concerned about: Image. In other words, what is left in the customer's mind after the transaction. The famous yet corny saying "you never get a second chance to make a first impression" is very true in this context. What brand wants their customers to think things like "brand XYZ is the brand with the loose buttons, I never waste my money on their products again"? In the intransparent, hazy world of the seller markets, companies could basically do what ever they wanted, customers could not unite and freely exchange their experiences.
And suddenly, there is the social web where customers and prospects are supposed to become friends or fans of the brand. Companies waste invest a fortune to build fan pages, brand pages, set up twitter accounts, hire social media managers and all, just to be part of the show and the game. "And then this freak shows up and posts a negative brand experience on our goddamn facebook-wall. And some of those who we believed were our friends 'like' this! Do something about it!" someone at Scotch & Soda's must have told somebody else – one and a half day later. Meanwhile, someone posted a failed "Philadelphia" stitching on a S&S hoodie, and somebody else asked whether rapid wearout of S&S jeans is liking it or lumping it. Hmm, not good. Not really what you would expect when something is 'made with love'.
How Scotch & Soda took down the milk from the stove
Wednesday, 1:43 pm Someone from Scotch&Soda replied to my Facebook post saying I should bring my pants to work tomorrow, they knew where I worked, they'd pick it up, have it repaired, and bring it back the next day. Please confirm per email. What? (says Don Draper)…. are you serious?
Wednesday, 1:50 pm Wrote to the email adress. Email bounced, mailbox unknown. Stupid me, how could I even think they were serious!
Wednesday, 2:13 pm Cut & paste the error-message to S&S Facebook wall without comment for all to see.
Wednesday, 2:27 pm S&S apologized, named a different adress and asked to write again. Ok, social media experts, this is your freakin' last chance!
Wednesday, 4:23 pm Simone from S&S wrote me a personal email – without boilerplates. Well done, Simone, very good. Ok, I still don't know how they know where I work and they refuse telling me, but I will bring my pants to work tomorrow, just for the fun of it.
Thursday, around 10 am A bike courier picked up the pants at my company. I was not in, so I did not talk to the guy. My colleague did not ask for a receipt or something… Great, if I do not get my pants back, all I have is a Facebook post and a lousy email.
Friday, around 10 am The bike courier is at the door. I told him the whole story because he was so fascinated about how this job came about. He told me the cost of this whole thing: 19 Euro per ride, adds up to 38. And then he said, if I wanted to be a good person, I should go to the tailor's (who is located embarrassingly close to my work) and pay them 2 Euro for the repair, which he of course did not pay because he didn't have anything to do with this. Not bad… not bad at all. Except for the part with the tailor.
Friday, after work I went to the tailor and got a warm welcome. How amazing all this was, they did not understand a thing when Scotch & Soda called but they understood they should fix something, so they fixed it. An whether that one button was really it or if they miss anything. I told them the whole story, everybody had a good laugh after several "ahh"s and "now I get it"s, and then I tried to pay the 2 Euro. Guess what: They refused. They fought it foot and nail, really. All I had to do was to promise that I would bring the next piece I have to repair or change to them. Very well, I will. Very nice people with a true understanding of customer service.
Impressed.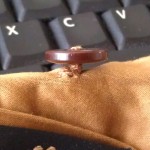 One could argue about whether it is a smart thought or very ROI-friendly when handling such things this way. But I won't. In fact, for me it was inspiring to see how a company who took my over-reacted pub-talk on Facebook seriously and managed to get a problem solved in virtually no time. The first step to customer satisfaction is taking him or her seriously. Scotch & Soda listened, understood, and acted. Besides, I take my head off to this uncomplicated, very dutch way of getting things done. So, thank you, Scotch & Soda!
Yours truly
A satisfied customer.
Jetzt Kommentar abgeben